Olympic Cycling Track Safety Campaign
Qatar Cycling Federation has petitioned cycling groups in Qatar tosupport them in encouraging safe cycling – particularly on the OlympicCycling Track.
The 'OCT' has become a victim of it's own success. It has contributedhugely to the development of cycling but there are now many novicecyclists. There have been accidents and QCF is receiving complaints fromthose who have found themselves facing on-coming groups racing acrossthe full width of both lanes. It's time for the community to help spreadthe safety and responsibility messages.
Secretary General of Qatar Cycling Federation, Mr. Thani Al Zarraa,has launched the campaign by sending a letter to all local groups,requesting assistance to establish seven basic safety rules:
Keep right to allow faster cyclists to pass safely.
Ride no more than two side by side
Always ride in the right-hand lane unless crossing the centre line is necessary to pass. When passing:Pass only when safeConsider riding single-file when passingUse the minimum space when outside your lane (do not ride in echelons)
Pass only when safe
Consider riding single-file when passing
Use the minimum space when outside your lane (do not ride in echelons)
If your group is too large or inexperienced to stay in lane, split into smaller groups
Front and rear lights are mandatory in low light and after dark.
A cycling helmet must be worn.
Racing is not allowed except during officially sanctioned events.
The letter further urges all users to take responsibility for thesafety and enjoyment of all using the track and is accompanied by imagespromoting the message 'Plenty of room on the track if…'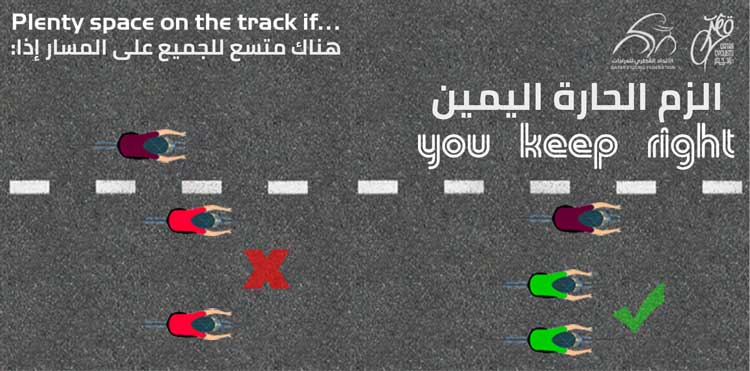 The key message in each is to keep to the right. This applies as muchto solo riders and pairs because cycling along the centre line forcesothers to cross into the opposing lane to pass.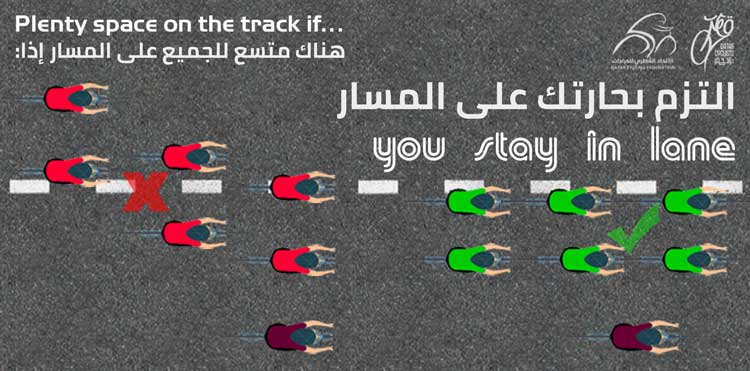 Groups must not stay in echelons to pass. As far as possible cyclists must stay in their lane.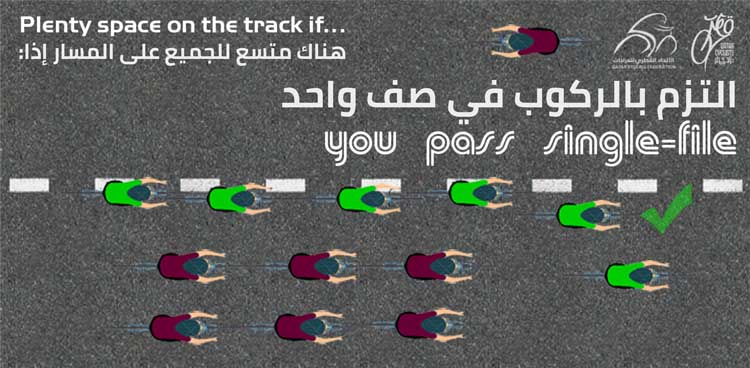 Sometimes this will require the group to form a single-file line.Especially if the group is large or there are on-coming cyclists.
The bigger the group and the more inexperienced the cyclists (largergaps between them), the greater the likelihood of drifting outside thelane. To stay on the right, your group may have to split into multipleechelons or even decide to set off the ride in smaller groups.
Everyone enjoys the speed thrills of cycling in a group but everyonemust take responsibility for forming safe and respectful cycling habits.