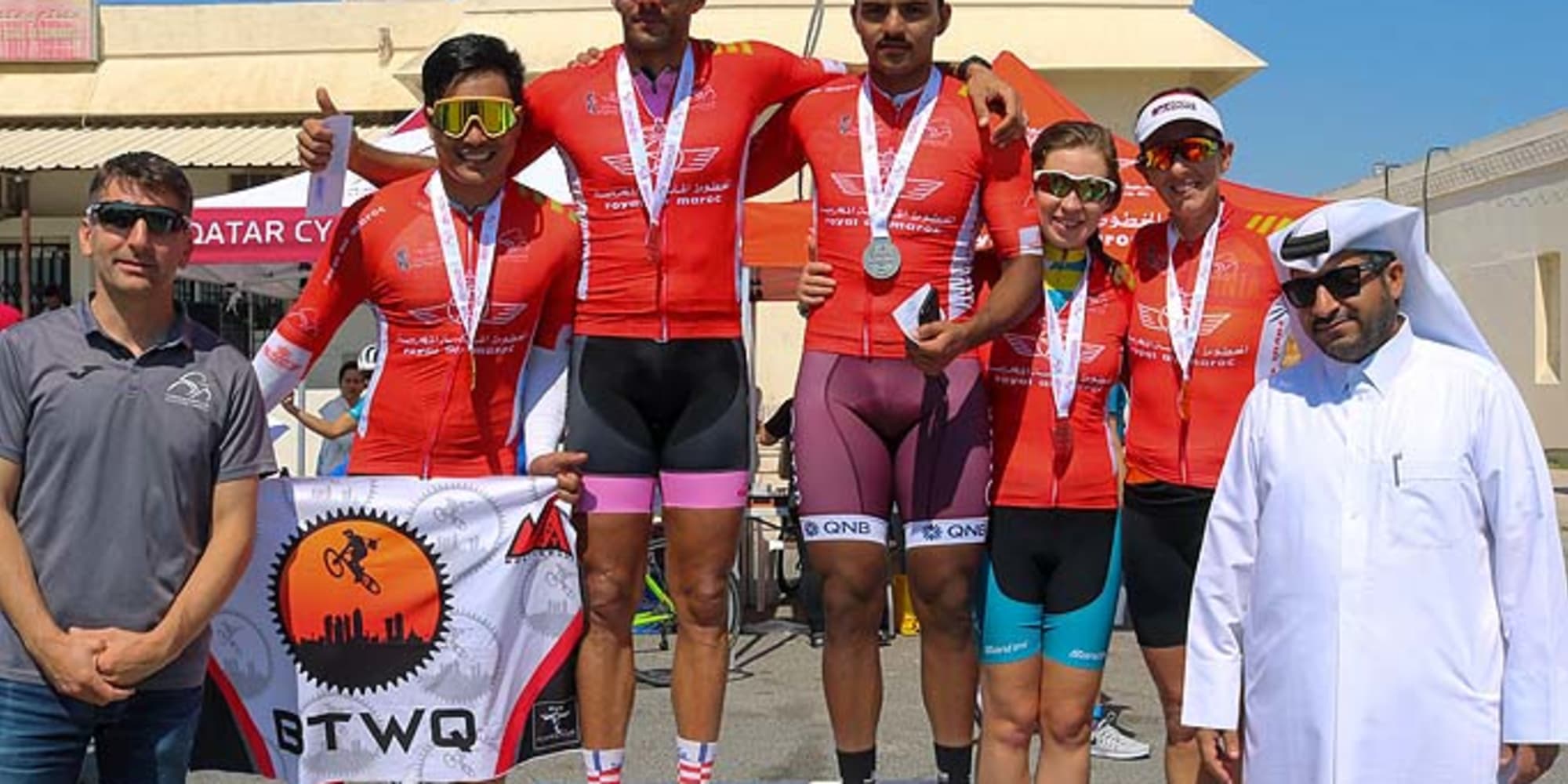 Royal Air Maroc League Scarlet Jerseys
Today marks the point in the calendar where we would have beenwrapping up the 2019/20 Royal Air Maroc League with an exciting eveningof races around the 'red road' of Al Bidda Park.
This anti-climactic alternative ending is somewhat inappropriate forwhat has really been an excellent season of road racing; starting in AlThakira back in October and continuing through Dukhan, Al Guwayriyah,Dosari Zoo, then Al Thakira again for the season's only TT and finishingback at Guwayriyah. Despite the early end, six races were completed, ofwhich the best 4 count for the overall ranking.
Just one point finally separated Mouchine Rhaili (Team Doha Cycling)and Lee Jones (Team Al Jassra) at the top of A grade men. They have beenswapping the lead all season but that didn't make it a two horse race –11 riders stood on the podium at one point or another.
Mouchine Rhaili (Team Doha Cycling) – 342 points
Lee Jones (Team Al Jassra) – 341
Bilal Al Saadi (Team Doha Cycling) – 309
A grade women was very much down to two women. With RAM regular,Julie Melville (Rasen Adventure Shop) knocked out early on with injury,that left Sophie Clarke (Rasen Adventure Shop) and Lisa Dunne (Team AlJassra) to fight it out. Lisa beat Sophie in the ITT but otherwise itwas Sophie's year. The mighty Pia Sundstedt won on each occasion sheturned out and her two counting races were enough to place her third inthe league.
Sophie Clarke (Rasen Adventure Shop) – 393 points
Lisa Dunne (Team Al Jassra) – 370
Pia Sunstedt – 200
Nayef Massalam (Rasen Adventure Shop) managed to top B grade men withonly 3 counting races – two firsts and a second. However, thatdominance masks what has been a great season in B grade, with a lot ofexciting attacking racing. Third placed Travis Pyle epitomized that;often being off the front but always having something left for a sprintfinish. Travis was tied in points with Ahmed Sharief (Rasen AdventureShop) whose win at Dukhan trumped Travis to give him second place in theleague. Of all the grades, B was most affected by the cancellation ofthe Al Bidda finale, as any of the top 7 were within reach of thepodium.
Nayef Massalam (Rasen Adventure Shop) – 293 points
Ahmed Sharief (Rasen Adventure Shop) – 288
Travis Pyle – 288
Like the A grade women, B grade had just two contenders with 4counting races. But what a contest between Daniela Sposi (Triclub Doha)and Sondra Hope! That scarlet jersey has been passed back and forthbetween them four times, with Dani developing as a cyclist and a racerand Sondra rising to that challenge while also dealing with on-goingcancer treatments. It is especially cruel then that the pair can only beseparated by the final count-back measure of who had the more recentvictory over the other – making Dani your champion.
Daniela Sposi (Triclub Doha) – 382 points
Sondra Hope – 382
Sara Fontana Belenguer (Triclub Doha) – 216
C grade men discovered a new talent in Jamison Carino (Bike to WorkQatar). Coming from mountain biking, Jamison had already won last yearsAl Bidda 'knobbly tire' race at an average speed of 37kph, so arguablyshould have be placed in B grade from the outset. However, the road wasan unknown for this young rider and he is allowed to choose where hefeels best suits him. Where suits him appears to be on one of the stepsof the podium because he never left it in all six races. That includedin the final race where, having well and truly won C grade, he steppedup to B and won that too! His countrymen and team mates, often seen inthe breakaway with him, took the other places.
Jamison Carino (Bike to Work Qatar) – 383 points
Bernard John Bayhon (Bike to Work Qatar) – 350
Elmer Oropieza (SMCC Apo Lakay) – 302
QCF made many improvements to road racing this season: a permanentstaff of organisers, support crew and officials made the organisers' jobeasier and got riders registered and on the road quicker; more supportvehicles, spare wheels, and a learning curve of delivering in-racesupport; mechanical support from Rasen Adventure Shop; more ice, water,food and drink at the finish; timing software and hardware improvementswhich delivered race and league results faster. Our heartfelt thanks toall who contribute.
Online registration improved efficiency and led to fewer no-shows buthad its hiccups and online payments are still problematic for some –this is one area for improvement. The tricky area of grading also reallyneeds to be addressed to prevent the lower grades racing at a speedwhich excludes slower and older riders.
Special mention goes to our sponsors and supporters. Rasen AdventureShop, Rayyan water, and of course Royal Air Maroc. These three havecontributed much to transforming road racing over the past few seasonsand, in these difficult times for the aviation industry, we offer RAMour best wishes at coming through the covid-19 pandemic and returningwith strength.
League winners will be awarded their prizes at the first race of the2020/21 season. Please contact QCF if you are leaving Qatar before then.